Now I admit
the above
is not
my
idea of a London Tourist Sight. But of you're a 69 year old who has spent his entire working life staring at the world down the lens of a television camera
and
you have a hankering for modern architecture and modern sculpture, well maybe, just maybe, there's something of the Tate Modern about Vauxhall Bus Station.
But our hamfisted heavy handed plod have once again shown that
shoot first, ask questions later
is the force motto.
Over on the
gruniad online
you can read the story of how two of london's finest since the hobby bobby who arrested two evangelists for preaching the gospel in an area of birmingham deemed off limits to non-moslems detained these two ...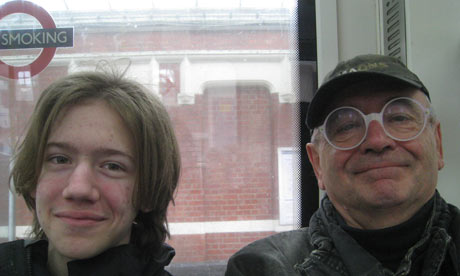 ... and forced them to delete the pictures they had taken of Vauxhall Bus Station and some London Buses.
And in case 69 year old father Klaus Matzka and his teenage son Loris were in any doubt, their names and passport details were taken, and they will no doubt be put on the sex offender's register next week by some over-zealous aide of the Prime Minister.
In a telephone interview from his home in Vienna, Matka said: "I've never had these experiences anywhere, never in the world, not even in Communist countries."

He described his horror as he and his 15-year-old son were forced to delete all transport-related pictures on their cameras, including images of Vauxhall underground station.

"Google Street View is allowed to show any details of our cities on the world wide web," he said. "But a father and his son are not allowed to take pictures of famous London landmarks."

He said he would not return to London again. "The nasty incident had killed interest in any further trips to the city".
I wondered how long it would be before the police would find a scapegoat victim upon whom theu could exploit their new-found "anti terrorist powers" with impunity. I did't have long to wait, did I
EDIT:
The editor in chief just "cyber-nudged' me to ask me to add a bit to this story, and include a 'hat tip' to '
odin
' on the "GA Forum".
It seems PC Plod has already started using this so-called anti-terror law to cover up their own lawless misdemeanours.

The story as given to me can be read here.
62-year-old Malcolm Sleath, who is chairman of his local park society, saw a police car driving erratically down a North London park footpath, despite the fact that by law police are supposed to investigate on foot in such circumstances.

He began filming the police car to document the misconduct so that he could later present it to the chief sergeant. Sleath was subsequently approached by the two officers in the car and was told he was being detained because he had breached Section 44 of the Terrorism Act.

"(The officer) was clearly embarrassed to be photographed where he shouldn't have been and wanted to intimidate me," said Sleath.
There are several reports of this story. I put the chap's name in to Google and I rather like the account given by "
thisislondon
" because their story was run after PC Plod was forced to admit his size 17 boots had no business tramplling on Mr Sleath's face (metaphotically speaking of course). And by the time we get to this point, "
two officers
" have become "
one hobby bobby in need of further training
". Which is to me
proof beyond any reasonable doubt
that Mr Sleath should have kept filming AND put his footage on youtiube so we could all see which newspaper account is the dog's bollox - and which is a load of bollox.
ENFIELD Police have apologised to a man who was questioned under anti-terror laws for taking a picture of a police car in a park.

Malcolm Sleath, the chairman of the Friends of the Town Park, took the picture because he did not think the officers should have been driving the car in the park. But a PCSO got out of the car and questioned him under Section 44 of the Terrorism Act 2000.

A spokeswoman confirmed that a senior officer had spoken to Mr Sleath and apologised for his "over zealous approach".

But she said the officer did not want to be named or to be interviewed by the Independent. She said: "Following a review of the incident the PCSO has received formal words of advice in line with our disciplinary procedures. She added: "The PCSO felt it was improper for the member of the public to photograph his vehicle and challenged him regarding this, citing the Terrorism Act 2000 and the current threat levels."He was not searched but was asked to account for his actions."