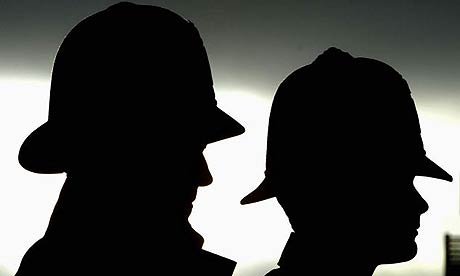 How many policemen (or women) does it take to pound a beat
safely
is the real question
by
johnofgwent


I came across an interesting
News Item
yesterday. I've chosen the Gruniad's take on it but if you're handy with google you can find it in The Times Online and a dozen other places too.
It seems the "poor bloody infantry" making up the
vast majority
of the "Thin Blue Line" in this country's Capital City, who are currently at the sharp end of the consequences of this Government's arrogance, are to be forced to give the good citizens of their town "value for money" and "a nice warm feeling that their officers are approachable". by patrolling
alone
instead of
in pairs
as they do now. The social workers and "political correctness handwringers" in suits are anguished at the thought that the good citizens of our land are intimidated by the sight of
two
policemen and would find
one on their own
more
approachable
.
Well I have my own views about that and I don't need a degree in psychobabble to formulate it, or to put it into words. Let's atart my taking a look at a
typical police patrol
in the urban jungle that our country has become. Her's a picture I found earlier,
before it became a terrorist offence
to take such photographs
Well I don't know about
you
but I know what
I
would do if confronted by this charming bunch wandering down the high street. I'd turn smartly round go back to my car and find a shop in another town to spend my money in, one that
does not
need this level of "protection"
But I want to challenge this half baked idea that two coppers walking up the street are "intimidating".
If you turn any non BBC TV channel on these days you'll end up finding some
UN
reality TV programme where fifty riot-geared plod are required to subdue a hundred drunken thugs. You'll find programmes telling you London's Theatre Land, ChinaTown and the streets of Soho are paved not with gold as Dick Whittington thought, but paved wioth blood and bits of broken teeth.
Well I can
personally
testify to that being a pile of bollox.
I've been up to the theatre and chinese restaurant area of London many times in the past and more recently and on every occasion I've seen nothing but good-humoured law abiding citizens making merry under the watchful eye of pairs of PC's
of equal good humour
whose primary task was to advise the tourists (such as me) of the quickest way to the Theatre, To The
"Lee Ho Fook"
after the performance - to sit with
Warren Zevon's Werewolves of London
enjoying a "Big Dish of Beef Chow Mein". (Ok, that was
one
time,
a while ago
, as this former fantastic venue has closed down), and to the railway station to go home afterwards.
I
can
remember the days when policemen patrolled the streets alone. I remember saying "Good Evening" to one as I walked to catch the last bus home after spending the evening at what was then my
girlfriend's
parent's house, long before she became "Mrs JoG". But that was a lifetime ago when the only people killing bombing and maiming citizens, policemen and armed forces personnel spoke with
IRISH
accents.
So what is the reason for this diktat. I can only think of two.
Penny Pinching
and a desire to see our Capital become a
No-Go
area for the law abiding.
And while it's all very well to think in rosy, cosy terms about how nice it would be to have Britain back to the point where all the coppers were like
Dixon Of Dock Green
you have to remember something.
This guy patrolled alone in "
The Blue Lamp
" and
look where it got him
.
George Dixon may have said 'Evening, All" every saturday night but he made an amazing recovery to do so, because
he
went on patrol
alone
in
"The Blue Lamp"
and got a bullet in the chest courtesy of Dirk Bogarde's character for doing so. And I have no particular wish to see life imitating art, but no
sane
member of the law abiding majority in this country could possibly expect any other outcome than a real life british bobby being put six foot under with no-one to call for help.