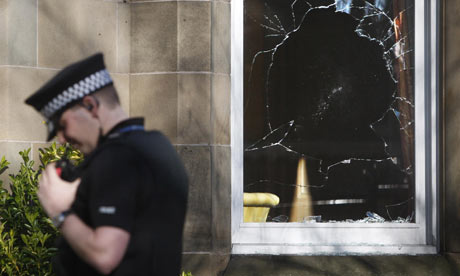 This is not the answer. This can never be the answer.

If even one of us here thinks this might possibly be allowed to become the answer while there is breath left in any one of us, then we might as well chuck in the towel right now.


by
johnofgwent
From time to time I see something over on the
UKDEBATE
Forum which perks up my interest. On occasions I feel it deserves to be shared with the readers of this blog. Tonight, I feel, I have found one such item, so I reproduce here more or less intact what I have said there.
The item that kicked this off was a report that the man who has collected a £700,000 a year pension for destroying a bank - yes HIM - has had his property vandalised. And as
my country
is fast becoming one under the rule of "The Night Of The Claw Hammer", I think now is a good time to put my 2p worth in.
Here is the original post from ukdebate and hat tip to "Gus" over on The UK debate free Speech Forum
An emailed statement has warned of further attacks on bankers after the home of former RBS boss Sir Fred Goodwin was damaged by vandals. Windows were smashed at the former Royal Bank of Scotland chief executive's house in Edinburgh. The windows of a Mercedes S600, parked in the driveway, were also smashed. A statement issued to media organisations shortly after the attack on Sir Fred's house said: "We are angry that rich people, like him, are paying themselves a huge amount of money and living in luxury, while ordinary people are made unemployed, destitute and homeless. "Bank bosses should be jailed. This is just the beginning." The email, sent in the early hours of the morning to a number of outlets including the Press Association, came from the address bankbossesarecriminals@mail.com. No group was named in the message and it did not explicitly claim responsibility for the attack. There was a notable police presence at Sir Fred's home in the upmarket Morningside area of the city. Sir Fred - dubbed "Fred the Shred" for his ruthless cost-cutting - has been at the centre of controversy over his £700,000-a-year pension. He took early retirement after RBS almost collapsed as the credit crunch gripped markets. It is thought that Sir Fred and his family have not been living in the house since the pension row erupted."

It will not surprise any of our regular readers to learn that predictably some of the more
extreme
left wingers on ukdebate including a (teenage) supporter of antifa felt this attack did not go anything like as far as it should have. But here is my take on it ....
I expected [person X] to be celebrating at the wilful and wanton destruction of property currently in this man's ownership. I do not.
No-one was forced to take out the loans they did but that is not the issue. You need an inside track on how the derivatives market worked, how the pittance of decent stuff that there was ended up "cut" with toxic crap and peddled at a huge profit to fools who thought they were buying 100% pure china white. Yes the analogy betweeen these derivatives and crack cocaine mixed a thousand fold with baking powder creatine and horse tranquiliser to a bunch of mug punters who thought they were getting the real thing man and then found the buzz fizzled after five minutes is more real than you could possibly believe unless you were one of the dealers. Which I was not, The bank that sacked me were peddling their wares to an entirely different sector.
This man was the instrument of his own and everyone else's financial ruin and I see no reason for him to get a single penny more than he would have got had the bank gone under. For had Gordon posessed the courage to act the capitalist he pretends his party to be filled with, had the bank for which this man been responsible been allowed to fail, this man's share options in it would have been worthless except as paper to burn to keep warm and he would have got a pension about twice the National Minimum Wage courtesy of the financial services rescue packages that would have been offered to all from managing director to lowly bank teller alike on the basis of basic salary.
I say that because he IS the author of his own misfortune who enjoyed a lifestyle on a par with an arab sheik when times were good, he should now be forced to suffer the down side by getting not a penny more than if his financial institution had been allowed to crumble to dust.
There are many for whom even such a pension would be riches beyond compare but I would be content for him to receive it knowing that my salary - earned from a reputation gained through thirty years of bloody hard graft mental and physical - exceeds his pension by a significant margin. It would suffice for me to know that should it take my fancy, I could waste a large portion of my disposable income for the year to travel to Edinburgh, book a table in the Witchery Resturant at the very end of the Royal Mile nearest the castle, and dine on a haunch and saddle of venison served therein while he was forced through lack of funds to stand outside like some victorian urchin and watch me enjoy myself within. And if perchance it came to my attention that he was standing without in the cold, then would it make that roast meat even more palatable ;-)
But destroying this man's property is not the answer nor is doing violence to his person.
Those who have done one or the other or both bring shame upon themselves and any who do not condemn them are no better in my eyes for they have brought this man sympathy when he deserves none.
And besides which if I had my way he'd have to sell that fine house of his off and in the current market I stand a bloody good chance of being able to afford it at auction and the less I have to repair once over the threshold with the deeds in my hand, the better (!)
OK OK that last part is about 3% reality 97% fantasy. But a man must have fantasies. And with the tablet's I'm on working like anti-viagra, some fantasies are easier to visualise coming about than others.......